Turn your smartphone or tablet into a business fax machine with the MyFax Mobile App for
iPhone or Android.
Send and receive faxes right from your mobile device, and enjoy the convenience of full-featured
business faxing anytime, anywhere.
With MyFax®, Kevin Can Stay Connected Anywhere
MyFax turns your smartphone or tablet into a sophisticated fax machine.
The MyFax Mobile App lets you attach over 150 file types to your faxes including PDF, Word, and Excel. Plus, you can attach up to 10 files to a single fax.
Take a Picture of a Fax to Send
If you only have a hard copy of a document, you can use your MyFax Mobile App to snap a photo of the doc and attach it to your outbound fax. No need to find a machine to scan it.
Maintain Document Privacy
With your MyFax Mobile App, you'll never have to worry about important or confidential faxes sitting on a public fax machine. Your faxes will come directly to your private email inbox.
Kevin embodies your typical busy contractor who travels job site to job site every day. He needs the flexibility of the MyFax Mobile App to send and receive blueprints, contracts, and specifications from wherever he is.
The Benefits of MyFax Share With 5
You won't be chained to your fax machine to send or receive time-sensitive business faxes. With the MyFax® Mobile App, you can fax right from your phone.
The MyFax Mobile App alerts you immediately when you receive a fax. You can leave your office to do business without worrying that you won't see a time-sensitive fax until you're back at work.
Adding faxing capability to your mobile device means you no longer have to pay for your old fax setup including a fax machine, landline, ink, paper, and maintenance fees.
The MyFax Mobile App lets you fax from anywhere. All you need is your phone.
Fax machines mean waiting around for incoming faxes, and rushing back to the office when you have to send an important fax. With the ability to fax from your mobile phone, you won't have to deal with those hassles anymore.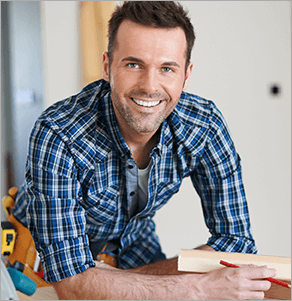 Faxing from the MyFax Mobile App Gives Kevin the Edge
Kevin's contracting business is hired by big construction firms, which have to fax him contracts, order requests, and other documents. To keep these companies happy, Kevin must respond quickly. Now with the MyFax® Mobile App, he doesn't have to run back to his office from the job site several times a day to send or receive a fax.